Facilities
In the ambiance of classical French style, starting with personal service and consultation, Le Spa Parisien takes you to a blissful journey through soothing and joyful spa experience only that the Westin can offer.
Treatment rooms
Your therapist takes you to the treatment room, which is named after French regions.
Using natural and high quality treatment items carefully selected from European brands, treatments by professional therapist enhances natural healing and regenerating power that human body has.
Treatment rooms (7 rooms)
Deluxe rooms (3 rooms)
Luxury suites (2 rooms )
Luxury suites with bronze bathtub. (2 rooms)
Luxury suite
Luxury suite offers more private ambiance and makes you feel as if you are having a treatment in the room of the house in Paris.
The bronze bathtub in the suite with a smooth curve was made by craftsman in Europe. It enhances treatment effect and promises you a graceful moment.
Upgrade to luxury suite
Treatment time + 10 minutes 8,000 JPY
Upgrade to our spa suite for 2 persons for an intimate experience.
Double suite with bronze bathtub 2 rooms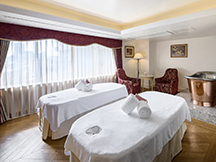 Ile de France / Pays de la Loire
Double suite 1 room (also available for couples)
Aquitaine
Single suite 1 room
Cote d'Azur
Aqua Area
Take your time and relax in the Aqua Area before the treatment.
Calm your mind in the steam room surrounded by grapefruits and mint aroma and relax your muscles in the jet bath that brings out the best treatment results.

Jet Bath

Steam Sauna

Dry Sauna (only in men's area)
Relaxation lounge
Take your time to get rest after the treatment over a cup of herb tea in the Relaxation Lounge with private sections divided by optic curtains.